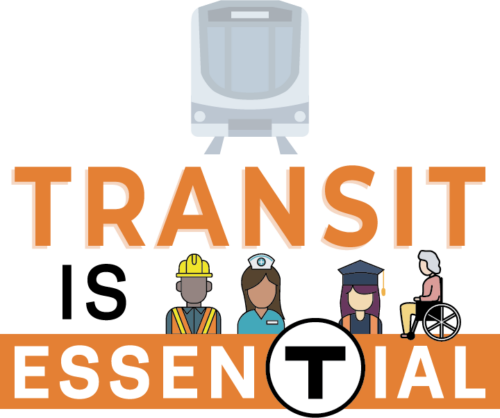 An Accessible, Affordable MBTA is Critical to Massachusetts's Recovery
Our broad coalition is calling on our elected leaders to fully fund the MBTA. We need to protect rider and employee safety, keep transit moving, and build back better.
The Transit is Essential Coalition began as a movement to prevent permanent MBTA service cuts proposed by MBTA management due to COVID-19. Now, with vaccinations underway, we are calling for restored, affordable MBTA service for all — while planning toward an even brighter future.
Public transit has been a critical lifeline throughout the pandemic, allowing essential workers to get to and from their jobs and enabling thousands of people to access health care, grocery stores, and other key services. Transit is essential now, and robust transit service will be critical to the recovery of the Commonwealth.
We must ensure that our transit authorities provide enough service to allow riders to maintain physical distancing while we are still in the midst of the pandemic. At the same time, the Legislature and the MBTA must act now to prepare for a dynamic, equitable post-COVID Commonwealth — a not-so-distant future in which people want to see friends and family, visit restaurants and cultural institutions, connect with colleagues, and make up for lost time.

We don't know exactly what this future will look like, but we CAN shape it. If we want communities with clean air, good jobs within reach, and healthier residents of all ages, we need to be proactive in supporting convenient and affordable mass transit now. In 2021, we can build back an MBTA that positions our communities not only to recover, but to thrive.
As Massachusetts recovers, we urge Governor Baker, the MBTA, the Fiscal and Management Control Board, and the Legislature to make the following commitments:
Restore bus, subway, commuter rail, and ferry service to full service this spring, and accelerate plans to expand operations to promote equity and opportunity.
With widespread vaccinations anticipated over the course of 2021, we must prepare now for a robust recovery. By restoring all MBTA modes to full service, we can help students get back into classrooms, workers back to the office, and patrons back to local businesses. While life may never look the same as before, there is no future in which Massachusetts can compromise on convenient, accessible, and affordable mass transit. As we restore service, we should also seek opportunities to expand operations to create a more equitable system than ever before.
Advance affordability for all transit riders.
MBTA bus fares have increased by more than 200% since 1991, more than double the rate of inflation. The MBTA's most consistent ridership is based in communities hardest hit by the pandemic. Now is the time to expand opportunities for affordable mobility through implementing policies such as a means-tested fare program.
Ensure critical transformative capital investments, climate justice, and air quality improvements move forward in 2021.
We must redouble our efforts in projects like the Better Bus Project, fleet electrification, modernizing bus maintenance facilities, Rail Vision and Regional Rail, and upgrading infrastructure to be resilient to a changing climate. Continuing to invest in these important initiatives will help build a 21st-Century transit system and advance the Commonwealth's air pollution and greenhouse gas emission goals.
Sustainably fund transit in the short term and long term.
The Legislature must step up with additional resources for the MBTA and transit statewide. Long before the pandemic, our transit systems were chronically underfunded. The MBTA needs immediate support—but it also needs more than a short-term fix. The House and Senate must advance a balanced revenue package that provides our transportation system statewide with dedicated revenue to keep transit moving and get our economy back on track.
  
#TransitIsEssentialMA
Transit is Essential Statement: Low-Income Fares Sent to Commission Study in Final Transportation Infrastructure Bill
BOSTON (July 31, 2022) –
"In Massachusetts, it is becoming harder to get by and get around. At a time of worsening income inequality, surging costs for housing and everyday essentials, and diminished MBTA service, it is deeply disappointing that the final transportation bond bill relegates a low-income fare program to long-term study. The legislature – which passed a similar low-income fare provision at the end of the last session – has missed an opportunity to provide immediate and meaningful relief to thousands of low-income transit riders across the state. 

We remain grateful to the many House and Senate members who have championed a low-income fare program, standing up for transit riders who have been core to our state's recovery and who most depend on accessible and reliable public transit. On behalf of these riders, we will continue to pursue all avenues possible to advance low-income fares in the months ahead."
Transit is Essential Applauds Senate for Including Low-Income Fares in Final Bond Bill
BOSTON (July 14, 2022) –
"We applaud the Senate for including a low-income fare program in their final transportation bond bill, standing up for the thousands of Massachusetts residents who struggle with the burden of transit costs. We give particular thanks to Senators Lydia Edwards and Brendan Crighton for their leadership. This program is supported by more than 80 percent of Bay Staters and we're committed to seeing it signed by the Governor this session."
Transit is Essential Statement on House Exclusion of Low-Income Fares Amendment
BOSTON (June 23, 2022) –
"It is disappointing that the House chose to exclude from the final transportation bond bill a low-income fare program that would help thousands who are struggling with the burden of transit costs and the high cost of gasoline, is proven to increase transit ridership, and is supported by more than 80 percent of people across the Commonwealth. More than 90 percent of low-income MBTA riders don't qualify for the limited existing low-income programs – for youth and seniors. This current system is simply not equitable. We will advocate vigorously for a low-income fare program as the bill moves to the Senate."
Transit is Essential Statement on new MBTA Board
"We thank the new members of the MBTA Board of directors for their service and we are eager for them to get to work. Riders across the system are counting on the board to be an independent voice advancing urgent priorities, including creating system-wide safety improvements, preparing the MBTA to compete for federal infrastructure dollars, and promoting greater affordability through a low-income fare pilot. With no time to waste, the board should build on the progress of the previous board on these and other critical issues.
We urge the board to meet promptly and to center the needs of low-income residents, riders of color, and other communities systemically underserved. Our coalition of more than 60 mobility, environmental, business, and civic organizations stands ready to collaborate with them in their efforts."
Transit is Essential Calls for Action on MBTA Safety and Funding at State House Rally
Group demands urgency around known solutions: legislative investment and accountability through naming an MBTA board
September 30, 2021 (BOSTON)
Calling for action from both the Governor and state legislature, advocates, riders, and municipal leaders rallied today at the State House following a series of safety-related incidents throughout the MBTA system, including Red and Orange Line derailments and dangerous conditions on station stairs and escalators. 
"We know the solutions to the challenges facing the T, and we have the power to fix them," said Josh Ostroff, Interim Director at the Transportation for Massachusetts Coalition. "The question is — what crisis will it take for our leaders to act with the urgency and scale required?" 
Showing a stack of more than 35 expert reports written over 20 years on the topics of MBTA investment, safety, and planning, the group reinforced key courses of action necessary for a safe and reliable system:
an investment plan leveraging incoming federal dollars

 

to advance

 

not only a safe system, but the clean, equitable, and modern system Massachusetts residents deserve;
accountability and transparency to rebuild trust with riders, most immediately through reconvening an MBTA board

 

to replace the Fiscal Management and Control Board (FMCB), which sunsetted in June; and
steady and sufficient legislative funding

 

to overcome long-standing MBTA financial deficits, fix outdated infrastructure, and hire the additional talent the T needs to succeed.
"More than ever, we need riders to trust the system. Under the prior board, the MBTA accelerated key projects and increased capital spending – and riders began seeing bright spots of a system moving in the right direction," said Jarred Johnson, Executive Director, TransitMatters. "We need a new board now to build back that trust and oversee urgent priorities."
"Investment is key. Federal dollars are critical to bringing forth the system we need, but one-time federal funding is a down-payment, not the full payment," said Stacy Thompson, Executive Director, LivableStreets Alliance. "We need the legislature to step up to ensure the MBTA is on sustainable footing for the long-term."
"People rely on the T to get to work and school, and they rely on the trains, buses, stairs, and escalators being safe," said CLF Staff Attorney Juanita Gibson. "The Baker Administration must ensure that safety is the number one priority. Now is the time to invest in the current system and plan for a climate-resilient MBTA of the future."
"The legislature advanced MBTA accountability and transparency by mandating the new Board include a worker representative nominated by the Mass AFL-CIO, as well as a rider representative who lives in an environmental justice community," said Lee Matsueda, Co-chair of the Public Transit Public Good Coalition and ED of Community Labor United. "Governor Baker must move quickly to appoint a new board that includes the worker member, and one of the rider nominees backed by dozens of community groups in our July letter."
"A safe, reliable, and affordable transit system is critical for an equitable and resilient economic recovery," said Kasia Hart, policy analyst for the Metropolitan Area Planning Council. "Now is the time to create a pathway for sustainable, long-term funding for the MBTA."
"We know what needs to happen to make and keep the T safe and that none of the bold, transformative improvements we want (like electrification or regional rail or bus transformation) are possible without it," said Julia Wallerce, Boston Program Manager for the Institute for Transportation and Development Policy. "Right now the only thing standing in the way is political will. It's time for Governor Baker and the legislature to step up to the plate with the investment and funding mechanisms we need to avoid more preventable tragedies and set the system on track for a safe, sustainable future."
About Transit Is Essential
Transit is Essential is a coalition of 60 organizations calling on state leaders to fully fund robust, equitable and reliable transit service. For more information visit: https://transitisessential.org
Transit is Essential Statement on FMCB Vote Advancing a Low-Income Fare Pilot
June 8, 2021
On Monday, the MBTA Fiscal and Management Control Board supported equitable MBTA access by approving a process to advance a low-income fare pilot in mid 2022. The Transit is Essential coalition deeply appreciates that the FMCB is prioritizing this critical issue in their final weeks before disbanding at the end of June.
While the advancement of a potential pilot is promising, the successful implementation of a low- income fare program and other urgent efforts to make the system more accessible and reliable is being held back by the uncertainty around the next phase of MBTA governance. To accelerate low-income fares and other critical projects, we urge the Legislature to act now to make permanent a transit-centered MBTA governing structure that will build on the successes of the FMCB. The longer we wait, the more we risk missing out on federal funding resources as well as our opportunity to ensure a truly equitable recovery.
###
Contact:  Boonstra, aboonstra@denterlein.com
Mobile: 339-368-0905
Transit Is Essential Statement on MBTA Service Restoration and Budget Preview
March 29, 2021
The budget previewed today offers encouragement that the MBTA and FMCB are listening to riders, advocates, our Congressional delegation, Mayor Janey, and other local elected officials. Fully funding bus and subway service for the next fiscal year, as well as beginning to restore ferry and Commuter Rail weekend service this spring, are steps in the right direction.
We urge the MBTA and FMCB to formalize these steps in the FY22 budget that will be approved in April. The service cuts have set back our region — the need to restore service and build back better is now more urgent than ever.
The MBTA's presentation also made clear that we must continue to invest in the system for the long-term. The T has been chronically underfunded – and federal support will not alone solve this challenge. The Massachusetts Legislature must now reenergize to provide additional resources for the T and transportation statewide.
Transit is Essential Statement on MBTA Budget Projections and Upcoming Service Cuts
March 8, 2021
The Transit is Essential coalition remains deeply concerned that the MBTA is choosing to advance service cuts that punish essential workers and the people who rely on transit the most.
The budget projections presented by the MBTA today, intended to justify the cuts, are misleading in that they omit additional federal funding that the MBTA will receive from President Biden's American Rescue Plan Act. These funds are expected to total at least $700M, roughly equivalent to an entire year of MBTA fare revenue before the pandemic, and enough to address any shortfalls in the MBTA budget for at least two fiscal years.
The Baker Administration has failed to make a clear case for why these immediate, harmful cuts are necessary. What is clear is that essential workers and riders making essential trips will bear the brunt of this decision.
Current ridership and funding are sufficient to keep running existing service. The MBTA's longer term financial challenges – which existed prior to the pandemic – must be addressed by the Legislature through recurring and dedicated transportation funding.
Transit is Essential is a coalition of 60 organizations calling on state leaders to fully fund robust, equitable and reliable transit service. For more information visit: https://transitisessential.org
Transit is Essential Coalition's Statement on MBTA Rider Projections
February 22, 2021
MBTA ridership trends and projections presented today demonstrate two things: our transit system has been a lifeline for low-income communities throughout the pandemic, and our region is on the road to recovery. To ensure a future with clean air, good jobs within reach, and healthier residents of all ages, we must make transit central to this recovery by continuing to invest in, improve, and expand the system.
The Transit is Essential Coalition continues to oppose the deep service cuts scheduled to be phased in in March and April. We hope the MBTA will use federal funding and other resources to ensure service is more convenient, affordable, and equitable than before.  Any adjustments to service should advance these goals, not shrink the system.
We urge the FMCB and MBTA to make service decisions that help shape a better future, and we urge the legislature to be a partner in providing the MBTA to resources they need to do so.
Transit is Essential Coalition's Statement on the Governor's Vetoes of Key Provisions of the Transportation Bond Bill
January 15, 2021
We are deeply disappointed by the Governor's vetoes of key sections of the transportation bond bill, particularly the removal of a provision that would have created a transit fare program for low-income residents.
The Governor's vetoes of additional financial aid to transit agencies further harm essential workers who rely on transit and who are already facing unnecessary service cuts in the midst of a worsening pandemic. 
The MBTA recently received more than $250 million in federal relief funds and President-Elect Biden announced today another relief package that would likely mean several hundred million more dollars for the MBTA in the coming months. Yet the Baker Administration seems intent on cutting back service.
We urge the Massachusetts Legislature to act swiftly to pass these provisions again and to take action on stable, recurring revenue dedicated to transit statewide. 
Our state's economic recovery and continued support of essential workers demand we invest in the MBTA so that it remains convenient, affordable, and accessible to all.
Coalition Statement on Monday's FMCB Meeting + Potential Vote to Cut MBTA Service
DECEMBER 13, 2020
Throughout the fall, business, labor, transportation, and environmental justice organizations that make up the Transit is Essential Coalition have advocated for new investments in the MBTA both to support essential workers who rely on transit service and to bolster the Commonwealth's long-term recovery. In this rapidly changing public-health and economic climate, the MBTA's Fiscal & Management Control Board should not make any significant service decisions.
Deep service cuts were proposed by MBTA staff before news was made public about a successful coronavirus vaccine. Since that time, more and more evidence indicates that large and long-term transit service cuts are unpopular, unnecessary, and would be arriving just as we expect large numbers of riders will be returning to the T.  
These cuts are unpopular:
A statewide poll by the MassINC Polling Group shows a strong majority of residents oppose the proposed cuts — even those who don't regularly ride the system. Massachusetts residents understand that transit is essential, and that those who are using transit today are frontline workers who are working in health care, at grocery stores, and providing other essential services.
These cuts are unnecessary:
Two new reports from the MBTA Advisory Board and A Better City offer pathways to addressing the MBTA's budget gap without cuts. Federal transit relief funding is becoming increasingly likely, and state legislative funding options remain on the table. 
These cuts would arrive at just the wrong time:
Per the timeline laid out in the state's vaccine distribution plan, a critical mass of residents could be vaccinated and looking to return to work, restaurants, sporting events, and cultural institutions just as these cuts would go into effect. Those riders who stopped commuting in March would find that the system on which they once relied is no longer there for them. 
Transit is essential.
The MBTA has been an essential service through the pandemic, and it will be essential to the Commonwealth's recovery. Now is not the time for deep cuts to service, and we urge the FMCB not to move forward with this vote.
Press Release: "Transit is Essential" Advocates Speak Out Against Potential MBTA Service Cuts
November 9, 2020
BOSTON – In anticipation of MBTA service cuts being announced today, a diverse coalition of business, labor, transportation, and environmental justice organizations is calling on the MBTA's Fiscal and Management Control Board to pause on making any permanent service decisions this year, and is urging the legislature to act to fully fund the T, which is facing a budget shortfall caused by COVID-19.
Speakers at a morning press conference organized by Transportation for Massachusetts and LivableStreets led a "reverse ribbon cutting" – cutting a large cardboard bus in half – to demonstrate the long-term damage of any permanent service cuts on rider and employee safety, air quality, equity, and economic recovery in local communities.
The press conference kicked off a campaign, "Transit is Essential," that will underscore the importance of keeping the T accessible and affordable to all. After the event, organizers will visiting key MBTA stations to distribute flyers and ask riders to share their stories about why the MBTA is essential to their lives.
The campaign website went live today at www.transitisessential.org. 
"The MBTA has proven itself as an essential service through the pandemic, and it will be essential to the Commonwealth's economic recovery. We need the State Legislature to step up to prevent drastic cuts that will leave people stranded", said Angela Johnson-Rodriguez, Statewide Organizing Director for Transportation for Massachusetts.
The MBTA is facing a $300-$600 million shortfall in the fiscal year that begins July 1st, 2021. Fare revenue, the MBTA's second-largest source of funding, has declined as ridership has dropped during the pandemic. But the agency is still serving essential workers such as doctors, nurses, and other health care professionals, as well as people making essential trips to grocery stores and medical appointments.
The coalition is urging the legislature to support the MBTA and transit statewide before the conclusion of the legislative session, by addressing the MBTA's budget gap and backing that up by passing a package this session that includes dedicated revenue. The Massachusetts House of Representatives is expected to debate the Fiscal Year 2021 state budget this week. An amendment filed by Representative Jonathan Hecht (Amendment #700) would allow the MBTA to avoid service cuts.
"A reliable public transportation system is essential to keeping businesses operating safely, efficiently, and profitably during and after the pandemic," said Chenelle Brown of the Alliance for Business Leadership's Board of Directors and CMBG3 Law. "We cannot allow public transportation, the lifeline of Greater Boston, to become a casualty of COVID-19. Pulling the rug out from under the MBTA now will put us further behind in meeting the long-term infrastructure and service improvement goals that are key to making Massachusetts a desirable and affordable place to do business."
MBTA service will be essential to the region's economic recovery. When those currently working remotely are ready to return to the office, the MBTA needs to be there for them — or we can expect the gridlock and pollution that comes with more cars on the road.
"Making permanent service reductions in response to the pandemic will hinder the Commonwealth's path to economic recovery," said Jason Palitsch, Executive Director of the 495/MetroWest Partnership. "Before COVID, commuter rail use in the 495/MetroWest region was climbing rapidly. If even a portion of these workers begin to return to commuting and find rail is no longer a convenient option, we'll send vehicles back onto roadways and create gridlock. And as employers look toward hiring during recovery, they will want to know their workers have commuting options."
info@transitisessential.org