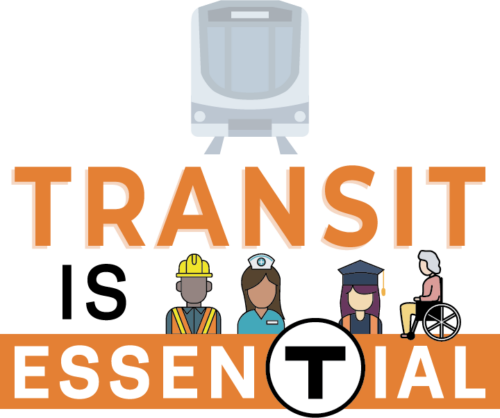 Call to Action on Potential MBTA Service Cuts
Our broad coalition is calling on our local leaders to fully fund the T. We need to protect rider and employee safety, keep transit moving, and build back better.
UPDATE
Transit is Essential Statement on Federal Relief for the MBTA and MBTA Service Cuts

In light of the COVID relief package passed by Congress on Monday night—a package that includes at least $250 million designated for the MBTA—we strongly encourage the MBTA's Fiscal and Management Control Board (FMCB) to reevaluate its recent decision to make deep cuts to transit service in the new year.
The FMCB's decision to cut service was made earlier this month despite thousands of calls from business, labor, environmental and community leaders, elected officials, and countless residents to hold off on cuts and consider alternatives.
People across the region continue to rely on transit to make essential trips. Reduced service means less access to frontline jobs, health care appointments, grocery stores, and other destinations that people must visit in the midst of this pandemic, as well as increased risk of dangerous crowding on those trips.
Relief funds provided by Congress will allow the MBTA to stave off cuts that would be devastating for frontline workers and others that rely on transit. The FMCB should act to restore 20 bus routes slated for elimination, keep bus and subway service at full strength, retain evening and weekend service on all commuter-rail lines, and restore service to the Charlestown ferry.
Our state's economic recovery and continued support of essential workers demand we invest in the MBTA so that it remains convenient, affordable, and accessible to all. This federal funding is much-needed, but it's not a long-term fix. We will continue to call on the Massachusetts Legislature to take action on stable, recurring revenue dedicated to transit statewide in the new year.
Thank you to everyone who made your voice heard — the Transit is Essential coalition is proud to be your partner in protecting transit as critical to our communities. Look out for updates in early 2021.

Cuts to transit service could not be coming at a worse time, and the damage caused by service reductions could take years to reverse.
In the wake of COVID-19 the MBTA is facing a $300-$600 million shortfall in the fiscal year that begins July 1st, 2021. Public transit has been a critical lifeline throughout the pandemic, allowing essential workers to get to and from their jobs and enabling thousands of people to access health care, grocery stores, and economic opportunities—it has kept the economy moving, even as many people continue to stay home. Transit is essential now, and robust transit service will be critical to the economic recovery of the Commonwealth.
We must ensure that our transit authorities provide enough service to allow riders and essential workers to maintain physical distancing during the pandemic. We caution against increasing fares and making permanent service cuts that will reduce service for essential workers as we continue to fight COVID-19, and will take years to reverse. The Legislature and the MBTA must support recovery today, be prepared for the return of riders in 2021, and be there for all residents of the Commonwealth when we return to the robust, dynamic state we had pre-pandemic. Even those who do not regularly ride the MBTA benefit from a transit system that reduces pollution and congestion, supports our economy, and keeps our neighbors, caregivers, and loved-ones safe. Decision makers must recognize the essential nature of transit service and act accordingly.
A "reverse ribbon cutting" demonstrating the long-term damage of any permanent service cuts on rider and employee safety, air quality, equity, and economic recovery in local communities. @7News pic.twitter.com/e1B3kk91f0

— John Cuoco (@JCuocoNews) November 9, 2020
We urge the MBTA's Fiscal and Management Control Board and MBTA leadership to make the following commitments:
Make no permanent or long-term decisions regarding service, especially potential cuts, before the legislature concludes its current session.
Advance affordability for all transit riders.
Ensure critical transformative capital investments, climate justice, and air quality improvements move forward in 2020 and 2021.
Sustainably fund transit in the short-term and long-term.
We urge the Legislature to make the following commitment:
Make no permanent or long-term decisions regarding service, especially potential cuts, before the legislature concludes its current session. Taking action before the end of the year would mean doing so without a meaningful, robust, and equitable process—especially when the proposed service cuts will dramatically impact lives and livelihoods. There is also continued uncertainty around how and when ridership will return, what that ridership will look like, and what financial resources, if any, will be available from the federal government in 2021. For the foreseeable future, to allow for adequate physical distancing, the MBTA should continue to run increased service over fall 2019 baseline conditions—with operational flexibility where it is most needed. Service changes should not pit riders of one community against those of another. Where scheduling modifications make sense due to changes in ridership, service cuts should only be made if service can be quickly re-deployed to support lines and modes where ridership has proven resilient during the pandemic.
Advance affordability for all transit riders. MBTA bus fares have increased by 300% since 1991, more than double the rate of inflation. Asking riders to pay more will put an added financial burden on transit-dependent individuals and households. This is especially true now, when the most consistent ridership is based in communities hardest hit by the pandemic. Rather than raising fares, which will negatively impact riders who need public transit most, now is the time to expand opportunities for affordable mobility through implementing policies such as a means-tested fare program.
Ensure critical transformative capital investments, climate justice, and air quality improvements move forward in 2020 and 2021. Stalling vital projects like the Better Bus Project, fleet electrification, modernizing bus maintenance facilities, Rail Vision and Regional Rail, and upgrading infrastructure to be resilient to a changing climate won't solve the MBTA's short-term budget shortfall. Continuing to invest in these important initiatives will help build a 21st-Century transit system and advance the Commonwealth's air pollution and greenhouse gas emission goals.
Sustainably fund transit in the short-term and long-term. The Legislature must step-up with additional resources for the MBTA and transit statewide. Long before the pandemic, our transit systems were chronically underfunded. The MBTA needs immediate support—but it also needs more than a short-term fix. In its current session, the House and Senate must advance a balanced revenue package that provides our transportation system statewide with dedicated revenue to keep transit moving and get our economy back on track.
  
#TransitIsEssentialMA
11/9/2020 State House News: Weekend Commuter Rail Service, 25 Bus Routes Would Be Cut Under MBTA Proposal. All weekend commuter rail service, 25 bus routes, ferry service, any rapid transit after midnight, and far more would be eliminated next year. All of the T's core subway lines would run 20 percent less frequently during peak hours and 40 percent less frequently when off-peak under the proposal. "This is a big and difficult day for the MBTA," T General Manager Steve Poftak said on a call outlining the proposal. "This is obviously something we don't want to do, but we have to do right now as a means of addressing a significant budget gap." "We are very aware of how anxiety-producing the conversation about service adjustments is, but we're confident that making the changes now to avoid spending money on service that people are not using is the best prescription we have for having the money we need to run fuller service when our riders come back, whenever that may be," said Transportation Secretary Stephanie Pollack.
WCBV 5: MBTA plan may put some commuter rail service, bus routes, ferries on chopping block. The T would eliminate 25 of its 169 bus routes, seven of which are within a quarter-mile of another route or subway, six of which have transit-critical riders but low ridership, and 12 of which have exhibited low demand and serve less dependent populations, officials said. "By having service cuts, this not only affects greater Boston residents. This affects residents from Haverhill to Brockton," said Angela Johnson-Rodriguez, of Transportation for Massachusetts. "Massachusetts will be at a competitive disadvantage if we are perceived as a place where you must own a car in order to be able to live and work, said Jason Palitsch, of the MetroWest Partnership.
Boston Globe: Cash-strapped MBTA details planned service cuts, would take effect next year. At an event protesting the cuts Monday morning, Stacy Thompson, director of the Livable Streets Alliance advocacy group, said that passengers still using low-ridership routes are the workers who need public transit the most. An amendment filed in the state House of Representatives' latest budget proposal, for example, would provide the MBTA with an additional $300 million or so compared to past years, though it's unclear whether that will be approved.
7 news Boston: MBTA plans to eliminate 25 bus routes, ferry service. "Pulling the rug out from under the MBTA now will put us further behind in meeting the long-term infrastructure and service improvement goals that are key to making Massachusetts a desirable and affordable place to do business (Chenelle Brown, director of government affairs at CMBG3 Law and a member of the Alliance for Business Leadership's Board of Directors)."
WBUR Radio Boston: Staring Down A $300 Million Deficit, MBTA Proposes Major Cuts.
11/5/2020 Boston Globe: Mass. House leaders, releasing budget proposal, say it's the wrong time to hike taxes. "The budget proposal, which the House plans to debate next week, largely follows the framework Governor Charlie Baker laid out last month, forgoing what House leaders called "drastic cuts" in the face of a $3.6 billion revenue shortfall spurred by the resurging coronavirus pandemic." (Note: No additional funding for the MBTA is included.)
11/1/2020 Commonwealth Magazine Opinion: T budget and service cuts are unwise; Let's tap wealthy, big corporations for needed revenue. "The economic and environmental benefits make it clear: public transit is a public good. Today, community and labor groups are coming together to relaunch a coalition formed during a previous crisis: the Public Transit, Public Good Coalition. We are calling on legislators and the MBTA to stop the cuts, find new sources of progressive revenue for transit statewide, and assure a meaningful public voice in the process." (by Mike Vartabedian, International Association of Machinists District 15, and Olivia Nichols, GreenRoots in Chelsea.)
10/29/2020 Boston Business Journal:  Commuter-rail cuts are coming. What happens when the pandemic's over? "It's absolutely going to prolong the recovery of public transportation," Greater Boston Chamber of Commerce CEO Jim Rooney said of commuter-rail cuts. "Inducing that demand will be all the more difficult."
10/19/2020 Boston Business Journal: Boston, Somerville mayors warn against MBTA service cuts. "Reducing service levels in the most transit dependent communities just as we are trying to get our businesses reopened and get our economy moving again will undermine our progress," Walsh said in pre-recorded testimony, adding that public transit is "critical" to the state's economic recovery. The potential cuts, Curtatone warned, could "squander" the progress Massachusetts has made in getting the virus under control and recovering from a national recession.
10/5/2020 Boston Globe: Cash-strapped MBTA could be hit hard by service cuts. "We are beginning to experience a transportation catastrophe," said Staci Rubin, a senior attorney with the Conservation Law Foundation. "Is it a cut, or an amputation?" asked Mela Miles, director of the T Riders Union. "I just wish they were significantly more explicit about how bad it is," [LivableStreets Stacy] Thompson said. "It's really hard for the public to grasp just how truly catastrophic a level of service cuts we could have."
11/10/2020 WBUR: Here is a look at the proposed service cuts:
info@transitisessential.org