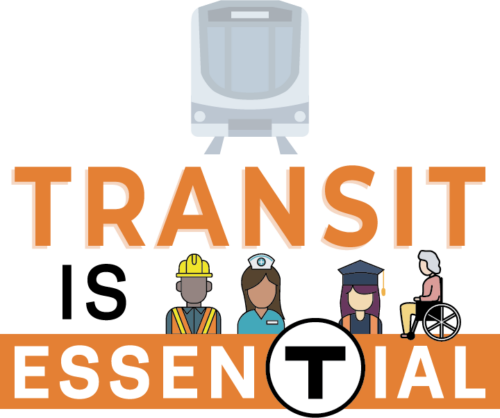 An Accessible, Affordable MBTA is Critical to Massachusetts's Recovery
Our broad coalition is calling on our local leaders to fully fund the MBTA. We need to protect rider and employee safety, keep transit moving, and build back better.
WBZ Radio 2/23/2021
MBTA Announces Changes To Commuter Rail Service
The Sun Chronicle 2/22/2021
MBTA announces changes for commuter rail
StreetsBlogMASS 2/22/2021
MBTA Board Updates: Advocates Press for Another Tobin Bridge Bus Lane
Sampan 1/22/2021
First of MBTA service cuts, reduced weekend train service, to start Jan 23
Statehouse News Service 1/11/2021
Cash infusion not stopping most MBTA service cuts
Boston Globe 12/27/2020
The T may get millions from Congress. Will service still be cut?
WHDH 12/22/2020
D.C. stimulus sparks calls to reverse 'T' cuts
StreetsBlog Mass 12/14/2020
It's decision day for MBTA service cuts: Here's what to watch
MassINC 11/19/2020
How MBTA cuts could cripple cities like Chelsea
StreetsBlog Mass 11/11/2020
Advocates launch #TransitIsEssential campaign as T floats severe service cuts
WCVB 11/10/2020
Worst possible time: Riders, advocates react to proposed MBTA cuts
WBUR 11/10/2020
Here is a look at the proposed service cuts
State House News 11/9/2020
Weekend Commuter Rail Service, 25 Bus Routes Would Be Cut Under MBTA Proposal
WCBV 5 11/9/2020
MBTA plan may put some commuter rail service, bus routes, ferries on chopping block
Boston Globe 11/9/2020
Cash-strapped MBTA details planned service cuts, would take effect next year
7 news Boston 11/9/2020
MBTA plans to eliminate 25 bus routes, ferry service
WBUR Radio Boston 11/9/2020
Staring Down A $300 Million Deficit, MBTA Proposes Major Cuts
Boston Globe 11/5/2020
Mass. House leaders, releasing budget proposal, say it's the wrong time to hike taxes
Commonwealth Magazine 11/1/2020
Opinion: T budget and service cuts are unwise; Let's tap wealthy, big corporations for needed revenue
Boston Business Journal 10/29/2020
Commuter-rail cuts are coming. What happens when the pandemic's over?
Boston Business Journal 10/19/2020
Boston, Somerville mayors warn against MBTA service cuts
Boston Globe 10/5/2020
Cash-strapped MBTA could be hit hard by service cuts
info@transitisessential.org