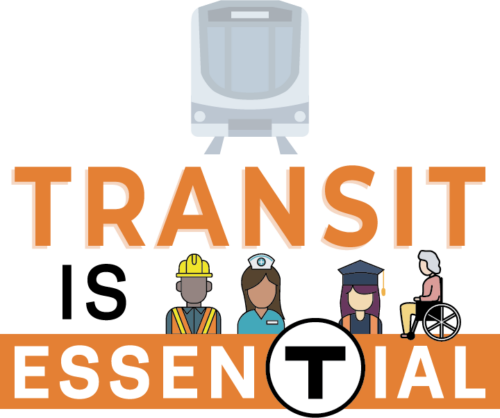 An Accessible, Affordable MBTA is Critical to Massachusetts's Recovery
Our broad coalition is calling on our local leaders to fully fund the MBTA. We need to protect rider and employee safety, keep transit moving, and build back better.
Boston Globe 5/25/2022
At Park Street, Mayor Wu supports low-income fare program for the T
WWLP 5/25/2022
Public Transportation Coalition Rally in Boston
WCVB, Boston 5/25/2022
Boston mayor, others rally to push MBTA for low income fare program
StreetsBlog 5/25/2022
Coalition Rallies for Low-Income Fare Legislation
WBZ NewsRadio 9/30/2021
Public Transit Rally Held On Beacon Hill
NBC 10 Boston 9/30/2021
Rally Calling for MBTA Improvements Held Thursday
WBUR 9/30/2021
Advocates For More T Funding And Oversight Rally On Beacon Hill
WCVB, Boston 9/30/2021
Transportation advocates rally at State House for more funding for MBTA
WHDH 9/30/2021
'These disasters are not accidents': Advocates call for improvements as MBTA problems mount
Boston Globe 9/30/2021
Advocates call for transit improvements in wake of MBTA issues
State House News Service 9/30/2021
MBTA Woes Trigger Calls For Revenue, Board Appointments
Boston 25 News 9/29/2021
Rally planned Thursday for state to take action on public transportation, safety
NBC 10 Boston 9/29/2021
Frustrated by Yet Another MBTA Derailment, Transit Advocates Push for Change
Patch.com 9/29/2021
Transit Is Essential Coalition Calls for MBTA Safety, Funding
Bay State Banner 9/22/2021
Report: MBTA faces fiscal cliff
Declining fare revenue, backlog of repairs could cause $200m shortfall
Dorchester Reporter 4/1/2021
Citing boost from stimulus funds, T reverses course on service cuts
SHNS 3/29/2021
MBTA scrambling to restore service
WHDH 3/29/2021
MBTA to discuss fully funding pre-pandemic service hours in fiscal 2022 budget
NBC Boston 3/29/2021
Boston Mayor Janey calls on MBTA to restore pre-pandemic service levels
Fox 25, Boston 3/29/2021
Boston Mayor Janey, transportation advocates demand full resumption of service ahead of MBTA meeting
Boston Globe 3/29/2021
Acting Mayor Janey criticizes service cuts to T, launches program to provide free Charlie cards to hard hit neighborhoods
WCVB, Boston 3/29/2021
Boston mayor joins calls to reverse MBTA service cuts
Boston Herald 3/28/2021
Kim Janey to join transit riders, advocates Monday to press for full return to pre-pandemic service levels
Fox 25, Boston 3/17/2021
Orange Line commuters face crowded buses, COVID fears
Boston Neighborhood Network 3/17/2021
Advocates call MBTA service cuts shortsighted
Boston Globe 3/17/2021
A derailment and packed trains? Sounds like the same old T
Baystate Banner 3/17/2021
Gov's MBTA cuts draw fire from elected officials
Boston Public Radio 3/16/2021
March 16, 2021 (Chris Dempsey & Jim Aloisi)
Patriot Ledger 3/15/2021
Lynch slams MBTA for cuts to jobs, service despite hefty federal aid
Brockton Enterprise 3/15/2021
How MBTA service cuts impact Brockton commuters
WCVB 5 3/14/2021
Latest round of MBTA cuts impacting bus, subway services now in effect
Boston Herald 3/13/2021
MBTA service cuts take effect Sunday, despite an estimated $2 billion in federal aid
Cambridge Day 3/13/2021
Subway and bus service cuts roll ahead Sunday, but transit advocates have hope for better MBTA
Boston Globe 3/13/2021
The MBTA is making more cuts – are the savings worth it?
WCVB 5 3/9/2021
MBTA bus, subway service cuts begin on March 14
StreetsBlogMASS 3/9/2021
MBTA Board Updates: Service Cuts Barely Dent the T's Budget, Which Is Flush With Relief Funds
Boston Herald 3/8/2021
MBTA Planning to Restore Some Service by Summer
WBZ Radio 2/23/2021
MBTA Announces Changes To Commuter Rail Service
The Sun Chronicle 2/22/2021
MBTA announces changes for commuter rail
StreetsBlogMASS 2/22/2021
MBTA Board Updates: Advocates Press for Another Tobin Bridge Bus Lane
Sampan 1/22/2021
First of MBTA service cuts, reduced weekend train service, to start Jan 23
Statehouse News Service 1/11/2021
Cash infusion not stopping most MBTA service cuts
Boston Globe 12/27/2020
The T may get millions from Congress. Will service still be cut?
WHDH 12/22/2020
D.C. stimulus sparks calls to reverse 'T' cuts
StreetsBlog Mass 12/14/2020
It's decision day for MBTA service cuts: Here's what to watch
MassINC 11/19/2020
How MBTA cuts could cripple cities like Chelsea
StreetsBlog Mass 11/11/2020
Advocates launch #TransitIsEssential campaign as T floats severe service cuts
WCVB 11/10/2020
Worst possible time: Riders, advocates react to proposed MBTA cuts
WBUR 11/10/2020
Here is a look at the proposed service cuts
State House News 11/9/2020
Weekend Commuter Rail Service, 25 Bus Routes Would Be Cut Under MBTA Proposal
WCBV 5 11/9/2020
MBTA plan may put some commuter rail service, bus routes, ferries on chopping block
Boston Globe 11/9/2020
Cash-strapped MBTA details planned service cuts, would take effect next year
7 news Boston 11/9/2020
MBTA plans to eliminate 25 bus routes, ferry service
WBUR Radio Boston 11/9/2020
Staring Down A $300 Million Deficit, MBTA Proposes Major Cuts
Boston Globe 11/5/2020
Mass. House leaders, releasing budget proposal, say it's the wrong time to hike taxes
Commonwealth Magazine 11/1/2020
Opinion: T budget and service cuts are unwise; Let's tap wealthy, big corporations for needed revenue
Boston Business Journal 10/29/2020
Commuter-rail cuts are coming. What happens when the pandemic's over?
Boston Business Journal 10/19/2020
Boston, Somerville mayors warn against MBTA service cuts
Boston Globe 10/5/2020
Cash-strapped MBTA could be hit hard by service cuts
info@transitisessential.org